Lucifer
Of the Seven Deadly Sins in Catholicism, which do you think is the gravest? It's not Wrath, Envy, or Lust... it is Pride! Why? Because once upon a time there dwelt in heaven the most beautiful and powerful of all the angels, who loved only himself and dared to challenge God. It was his pride that triggered that infamous rebellion, the great war in heaven that cast him and his followers into Hell. Because pride is unique among the seven deadly sins in that it makes us think for ourselves, and therefore poses the only true threat to God's unquestioned authority.

It's against this generic backdrop that Kaori Yuki's manga Angel Sanctuary is set. So here's Lucifer, apple and all. =D In all his many incarnations he's such a great character, I luv him!! He's also the only character ever to really make me think and question some things that I had taken for granted.

There are very few color pictures of Lucifer, so I had a real fun time trying to guess his eye color, tattoo color, etc. :P Also had to half-improvise on the outfit. Now he looks like something out of X/1999 o.o;... Drawn in marker and pencil.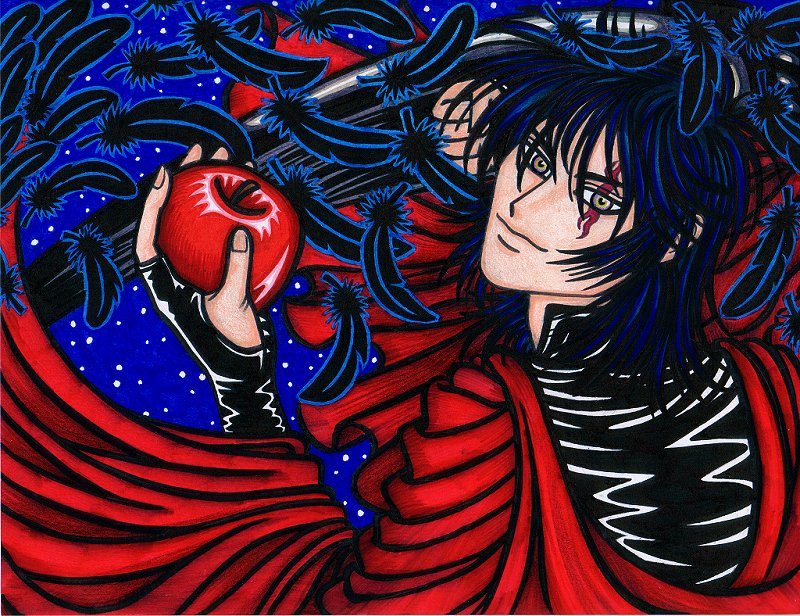 Copyright © 2003 by Yumeni www.twilightvisions.com. All rights reserved.
Revised: 12 May 2010 07:46:39 -0400 .