Raven Dual Wielding
This is my half-dark-elf character Raven, far from his dark North Forest home and out of his usual outfit. Raven's wearing Aramil clothing here, and yah, they worship the sun. He got called on by the Aramil Empire to help them fight Kowhani who, after being exiled from the North Forest, became the leader of the Maraudean armies. Raven had always used a two-handed sword, and that was swell enough for him. But Kowhani is his equal as a fighter, and she uses two serrated blades. Long story short, Kowhani kicked his ass, and he was forced to re-learn dual wield in order to have any chance of beating her.

His head is too big, and the katanas came out way too thick but... err... did I call them katanas? I meant Aramil swords. *cough* That's right!! Aramil swords, made for big cat-people hands!! XD The pose was really hard to draw so I had to actually take a pic of me in the position for reference. (I think that's the first time I ever had to do that!) Colored in Photoshop. This is my second photoshopped picture.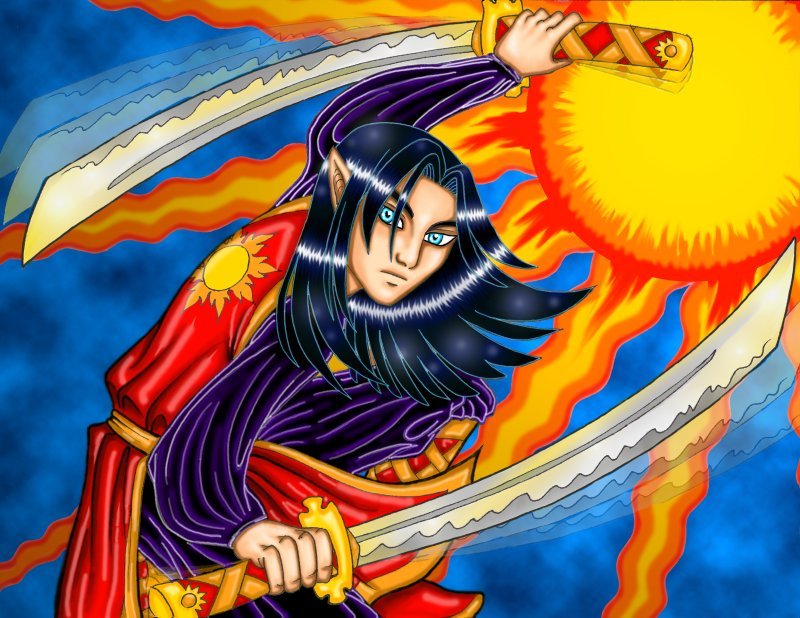 Copyright © 2004 by Yumeni www.twilightvisions.com. All rights reserved.
Revised: 12 May 2010 07:46:41 -0400 .