Falling Star
Well this is Maedjoe again. Maedjoe and blood go together like bread and butter. As part of the destiny he unwittingly agreed to (always good to read the fine print), he gets to go through a rediculous amount of pain/torture/mutilation. Here he is falling into a rippling sea of blood, symbolic of his loss of innocence (represented by the dissolving star angel wings) as a result of his moon angel-perscribed destiny. Did all that make sense? Probably not. But who reads descriptions anyway? :P

Yes, Maedjoe... the only guy I ever draw naked (with strategically placed legs/feathers/blood/bedsheets/women). I like him. I like him a lot. If you see him anywhere, please tell him I'm looking for him. You can usually spot him by the trail of blood he leaves behind. And don't ask me where his nipples are. I am only recently experimenting with drawing male anatomy and nipples are a complete mystery to me X.x; Drawn in marker and pencil.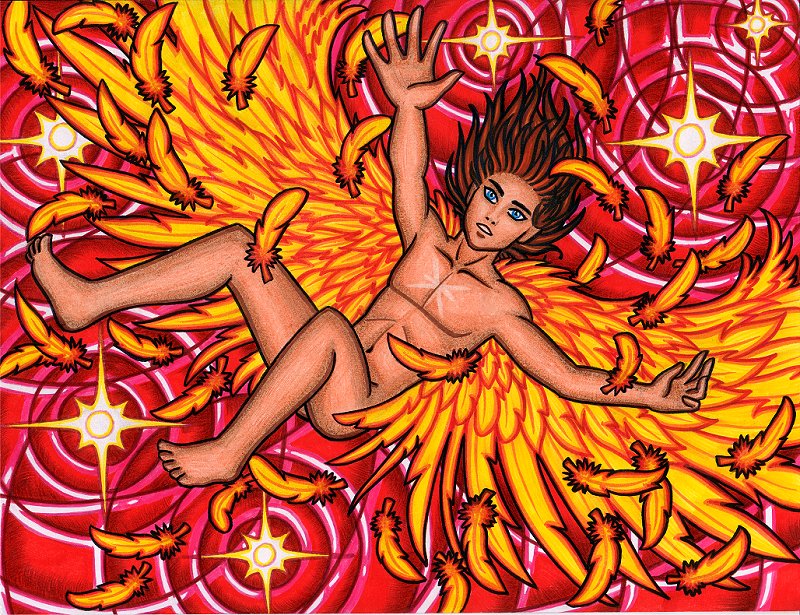 Copyright © 2003 by Yumeni www.twilightvisions.com. All rights reserved.
Revised: 12 May 2010 07:46:41 -0400 .