When Dokuga, Tetsujo, Ushishimada, Ton, and Saji were little, they bonded not through shared blood but shared social status.
They were reviled by society because they were sorcerers born unable to emit smoke necessary to use magic.

Since nobody would give them work, they were forced to live on the streets and steal food to survive, incurring even more scorn from the sorcerer elite.

This all changed when Kai showed up and took them under his protection of sorts. They called him their Boss, founded the CrossEyes gang, and became his top Officers.

Suddenly they had a roof over their heads, enough funding to fulfill their needs, and a purpose in life.
But this didn't last long.


Kai had to leave, for reasons unbeknownst to anyone except Dokuga.

The CrossEyes fell into disarray and their most powerful members had to go into hiding to avoid En's wrath.

The Officers went back to living in poverty, though things were a bit different this time.

Instead of stealing their food, they now had food vouchers. Instead of being stranded on the streets, they now had a house.

.



It was a rickety old family house out in the middle of nowhere, but they couldn't even afford that much.



They didn't own it, and were already six months behind on rent. If it wasn't for the leniency of their landlady, they would've been homeless a long time ago.



But they learned to make do with what they had, even growing their own vegetables to save on groceries. It took "keeping a low profile" to a whole new level.

.



.

.
Since they still couldn't get real jobs, their days were spent tirelessly working on any petty chores they could get paid for.

To lower their electric bill, they never turned on the lights until work became impossible without them.

This came as a great shock to Risu, who never expected the CrossEyes elite to be living so humbly.

But, in a more positive sense, it could be said that the CrossEyes were simply living off the grid in an ecologically sustainable way.
.

Recycling wasn't an idle luxury but a real necessity. When one couldn't afford something as essential as toilet paper, Dokuga's favorite commodity, a chance visit from the paper wastes collection was a pretty big deal.

They did their best to share what little resources they had.


They were hospitable enough to offer their guest some tea, even if came from a used tea bag steeped in some stale water, and they didn't kick Risu out even though they barely had enough food to feed themselves.


They were kind enough to let him sleep in their home. Sure he got to sleep on the floor, but the rest of them fared no better. Even Dokuga, their acting leader, got to sleep in a dirty bathtub.

.





.

Life was tough, but they still had some income flowing in from selling their Boss' dwindling supply of black powder. And, as long as they had a working laboratory, they had a chance of replenishing that supply.

Alas, even that hope was crushed. En's Cleaners got wind of the secret lab and burned it to the ground.

All the black powder was gone. All the lab workers were dead. And the CrossEyes' funding had completely run dry.

.





.
The Officers were forced to accept more low-paying part-time jobs and put up with even more demeaning treatment from their employers.


They found some work in the kitchens of a spa. Saji continued doing embroidery. Ushishimada contemplated prostituting himself to the landlady in lieu of rent.


All hanging on to the hope that soon their Boss would come back.




.
.




Sadly, their circumstances kept going from worse to unbearable.

Tetsujo and Ton got badly injured, becoming dead weights that could no longer contribute to the group's income while adding a mountain of new health expenses.

Their new groupie, Natsuki, had to pick up the slack through waitressing. Dokuga worked out in the sun all day, dehydrating himself of poison saliva to kill termites.

But no matter how much or how hard they all worked, the money was never enough.

Interpersonal tensions grew as they were reminded why they were driven to a life of crime in the first place. The status quo was firmly set against them.
.

.



.

They mined vending machines for loose coin. They went back to harmless robbery. But they still couldn't afford the healing smoke to save their friends.

With no options left, and after begging had failed, Dokuga took matters into his own hands and came down hard on the greedy merchants who ran the healing smoke shop.




.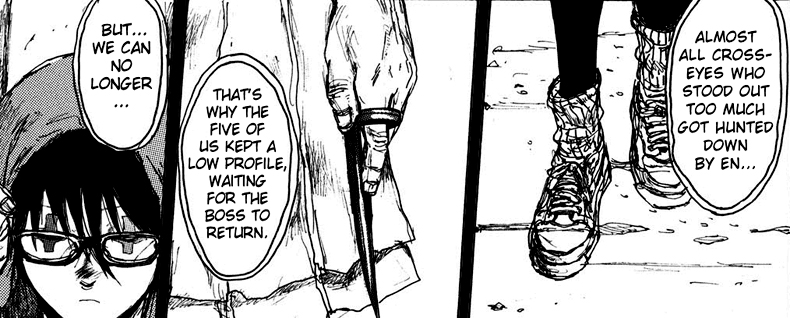 .



.

By massacring such a well-known establishment without using magic, Dokuga risked exposing the CrossEyes to En's retribution.


But, as luck would have it, the incident coincided with the Boss' return. And the first thing he did upon his return was defeat En and steal his head.


After reuniting with his Officers, Kai led a violent takeover of En's manor and drove out the En Family.


The colossal shift in power from the sorcerer elite to the CrossEyes shook the foundations of society.


As the CrossEyes' popularity soared, it was the En Family that had to go into hiding.


With Kai atop En's throne, his Officers now had total access to all of the manor's riches. More than they could've ever dreamed.


Indeed, more than they even knew what to do with.

They had little use for gold and treasure. Their mindset remained very grounded, valuing practical necessities above jewels.

.
When the ranks of the CrossEyes swelled with new members, it didn't even cross the Officers' mind to hoard the resources for themselves.


They were still poor kids at heart, uncorrupted by the greed of the social elites.


Their communal instincts kicked in and they were just happy to be able to share what they had with their new comrades.




.
Despite the opulence that surrounded them, old habits died hard.

Dokuga finally had a decent bed to sleep in, and enough money to buy anything he wants, but he still couldn't throw away a functional clock that annoyed the crap out of him.

Reduce, Reuse, Recycle. <3