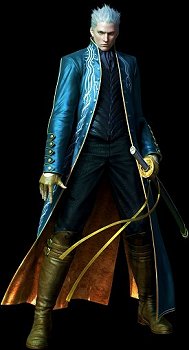 Unlike many of the other bosses, Vergil looks and moves like a human - indeed much like Dante himself - so you intuitively know what you can expect from him. He is a very intelligent, strategic fighter, but his most awesome and most frustrating aspect is his blinding speed. He is an honorable warrior who avoids range weapons and will deflect your guns with an elegant twirl of his sword if you try to use them against him, but if you dare come near him he is relentless and will give you no quarter. The strokes of his katana are sweeping and harsh, brutally decimating your lifebar in the blink of an eye. Vergil never runs. He is far too dignified to run. He walks slowly and deliberately, and when he's not walking, he is teleporting at you from where you least expect him. Sometimes he disappears from view altogether, appearing again in the center of the stage to shoot at you with subtle flicks of his sword.

Although he is very fast, he takes a second to recover from his attacks. Move towards him or shoot at him in order to bait him to come at you, and (this is the tricky part :P) dodge his swipes. They have quite a long reach so watch out. When he is done, and provided you are not hopping around like mad somewhere on the other side of the arena, charge him as he is sheathing his blade. You should be able to get a few combos in before he blocks you and retaliates so make them count! If you ever manage to clang swords with him when he is in mid-swing, he is thrown of balance, giving you another opportunity to strike.
It is raining at the top of the tower, so Vergil's normally spiky hair is weighed down for the duration of the battle. If you fight near the edges of the arena, you can sometimes knock over the nearby statues. When all is said and done, there is no way you're winning this duel anyway. Vergil is destined to defeat you in the closing cinematic, but your reward is awakening to your demonic powers. Dante is able to use his Devil Trigger past Mission 7.

Three Hit Combo (Yamato): Vergil leads in with the hilt of his katana, unsheathing it at the last swing for an upper slash of the Yamato. Get out of the way.

Rapid Slash (Yamato): Vergil utters either "Scum!" or "Die!" as he slides in with a devastating bladed uppercut, spraying sparks and launching you into the air. Get out of the way.

Judgment Cut (Yamato): Vergil pumps his katana through the air so quickly that it barely registers as a motion. Instead, air molecules split apart and a cone of distorted atmosphere comes at you, ending in purple spheres that assault you where you stand. If you keep running in a direction perpendicular to the cone you should easily be able to avoid this attack. Vergil is also very vulnerable while casting Judgment Cut, and you can jump straight over it to initiate your attack.

Summoned Daggers: In Dante Must Die mode, Vergil utters "Don't get so cocky," disappears into a purple sphere and comes out with his Summoned Daggers. He can put them around himself like a damage shield, or fling them at Dante from across the way.

Vergil 2 (mission 13)

Vergil 3 (mission 20)

back to bosses list
back to DMC page

DISCLAIMER: All artwork, characters, stories, music, video, and books are Copyright CAPCOM and ATLUS. They are NOT of my making. No copyright infringement is intended.