Time Force - Episodes 30 - Destiny Defeated (Yaoi style)
His hopes for the future shattered, Eric and his birds are LEAVING!!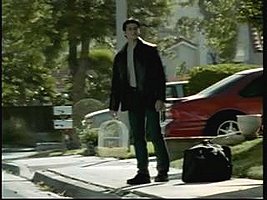 A very symbolic gesture, might I add. If we take the pair of birds to represent the relationship between Eric and Wes, his desire to hold onto it is very telling.
Enter little girl!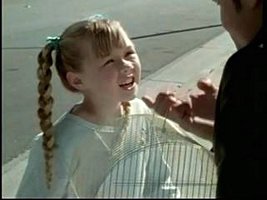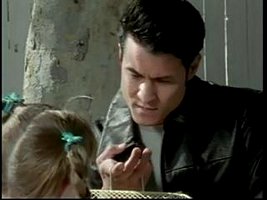 | | |
| --- | --- |
| GIRL: | "Where are you guys going?" |
| ERIC: | "We're, um... going away for a while..." |
| GIRL: | "How long?" |
| ERIC: | "Maybe a long time." |
The little girl is very sad.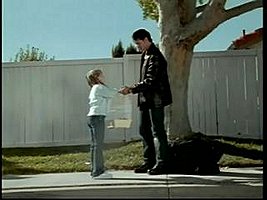 | | |
| --- | --- |
| ERIC: | "Come here, how about you take care of them?" |
| GIRL: | "Sure!" |
If we take the little girl to represent the fruits of Eric and Wes' love, then his entrusting of their relationship - his birds - to her is highly symbolic as well. On the one hand, he is leaving his heart in a safe place. On the other hand, he is giving up.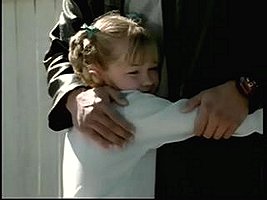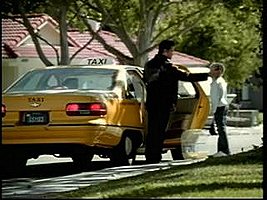 GIRL: "I'll miss you!"

Eric gets into a taxi and rides off, but his angsty resolve doesn't last long.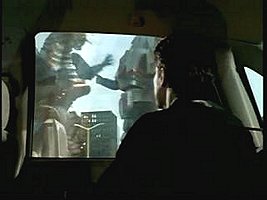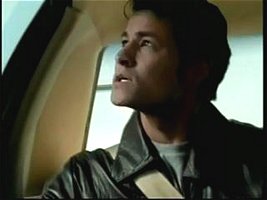 As soon as he sees that Wes is in trouble, he comes out to help them.


| | |
| --- | --- |
| ERIC: | "Looks like I got here just in time! Quantasaurus Rex, online!!" |
| WES: | "Q-Rex - perfect!... Eric, hold on!!" |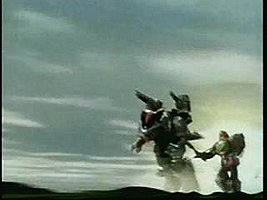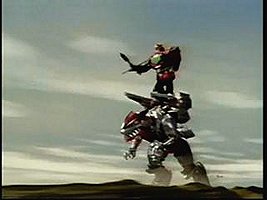 Wes' Megazord runs to catch up to the Quantasaurus Rex and mounts it from behind!!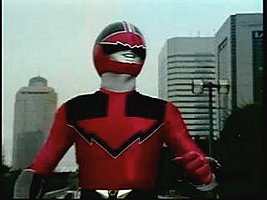 ERIC: "Wes! What do you think you're doing to the Q-Rex?!"

Darling, if you still gotta ask, you don't wanna know...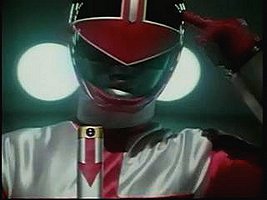 | | |
| --- | --- |
| WES: | "Trust me, I've got a crazy idea!" |
| TRIP: | "Well, what is it?" |
| KATIE: | "Whatever it is, we're with you, Wes!" |
| WES: | "Thanks, guys." |

Uhh... did Wes just come out of the closet in front of his whole team??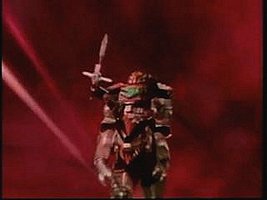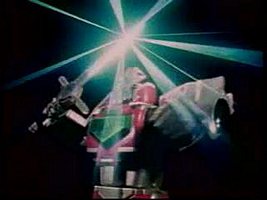 OMG..... XD


KATIE:
"What is this maneuver??"
TRIP:
"I don't know, I've never seen it before but...
I'm behind Wes all the way!"
JEN:
"Me too!"
LUCAS:
"it's unanimous!"
Wes rides the Q-Rex all the way to the giant robot like a knight on horseback and executes a magnificently dramatic slash! This is the closest Wes and Eric come to "merging" their Megazords, so there you have it - it was the power of LOVE that defeated the giant robot thing!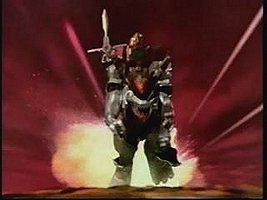 The debate on who gets to be on top in this relationship, Eric or Wes, is a heated one to be sure.
I take a superficially straightforward approach: Wes' Megazord was literally on TOP of Eric's!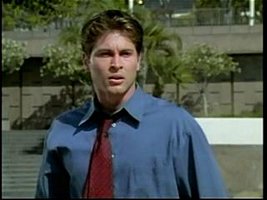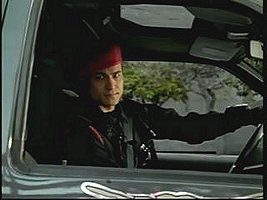 Any determination Eric had to leave had completely dissolved after Wes' dashing "maneuver." He just can't stay away! When Wes runs off after the battle to check on his father, Eric pulls up in front of him.
ERIC: "Get in!... I'll give you a ride."
They have each just faced their greatest fears - Wes being stuck in a suit as company head for the rest of his life, Eric being stripped of his power and cast back into the gutter - and they had nothing left to lose but each other. Their minds were finally in sync. They had to check on Wes' father, the one person who could guarantee their future together.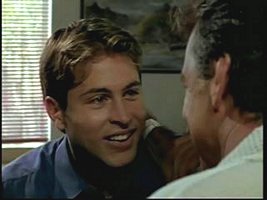 Turns out Mr. Collins is alive and well (thanks to Alex).


| | |
| --- | --- |
| MR.COLLINS: | "I heard you took my place at the company while I was away. I can't tell you how much that meant to me but, son, I don't want you to be a businessman for my sake! Your place is with the Rangers." |
It would also seem he had a change of heart, which bodes well for everyone.
TF - Episode 30
back to Wes x Eric
back to Quantum Power
back to Voices
DISCLAIMER: All pictures, characters, and stories are Copyright their respective owners. They are NOT of my making and, to the best of my knowledge, they are not gay. No copyright infringement is intended.